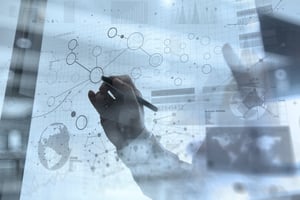 Businesses, large and small, are under the constant threat of cyber attacks. The number of cyber attacks per day is estimated at over 2,200, which is almost one every 39 seconds. In today's business environment, external cybersecurity risks are among the most immediate and financially impactful. The increasing digitization of organizations creates a greater risk of external cybersecurity threats such as phishing attacks, data leaks, and account takeovers. Listed below are 5 ways you can minimize this risk and build an effective cybersecurity plan.
Dark Web Monitoring
The dark web is a part of the internet that is deliberately hidden and not indexed. Criminals use the dark web to sell, buy, and trade credit card information, health records, corporate passwords, and proprietary data. Dark Web Monitoring is important, as it can let you know if any of your corporate data is currently leaked on the dark web. It is best to look for a comprehensive dark web monitoring service, which collects and analyzes raw data on the dark web in real time. This is something that should be offered and provided by your cybersecurity provider. Should your organization's data be compromised, they can advise you on the appropriate measures to take to limit the damage of the breach. As a result, if your organization's data has been compromised, they can advise you on the appropriate steps to take to limit any damage.
Threat Intelligence
While being more digitally connected has led to some great innovations for business, it has also increased the risk of cyber attacks. Threat Intelligence is another important component of a cybersecurity strategy. A threat intelligence program identifies and analyzes cyber threats to develop a better understanding of how to prevent them. Using threat intelligence, organizations can proactively identify and respond to evolving digital and data security threats.
Attack Surface Management (ASM)
The attack surface of an organization includes its applications, network infrastructure, IoT devices, endpoints, and cloud services. Attack surface management (ASM) is the continuous identification, analysis, remediation, and monitoring of cybersecurity vulnerabilities and any potential attack surfaces that threat actors could use to breach an organization. Contrary to other cybersecurity strategies, attack surface management looks at things from the threat actor's perspective instead of the defender's. It is vital to have an attack surface management program that prevents potential breaches and ensures that data is stored and retrieved securely.
Brand Protection
Your brand is your most important asset. Protect it! Infringements like copyright piracy, patent violations, fake domains, impersonations, account takeovers, and other forms of malicious brand abuse can negatively affect your brand. Look for a cybersecurity partner that can offer you brand protection with proven AI capabilities.
Breach Response
Having a breach response plan is a necessity in our interconnected world. Even with all the security measures in place, a breach may still occur. How an organization responds to a breach is very important. If an organization suffers a cybersecurity breach, it should be transparent by notifying all relevant stakeholders. An effective breach response solution can help reduce the time and resources your business needs to recover from cyber incidents. A study by The Cyentia Institute found that companies that didn't have a cyber incident response plan suffered losses 2.8 times larger than their counterparts that did. In addition, testing your breach response plan is critical. An IBM study shows organizations that test their breach response plans save an average of $2.66 million vs. those companies that didn't test their plan.
Managing cybersecurity risk is critical to businesses today. Finding a partner that can minimize your risk through Dark Web Monitoring, Threat Intelligence, Attack Surface Management, Brand Protection and Breach Response is key to minimizing this risk. This is the Quick Intelligence difference. Contact us to learn how your organization can reduce its cybersecurity risk.