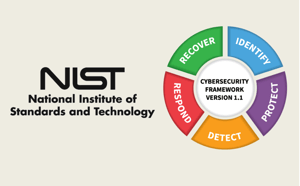 The National Institute of Standards and Technology (NIST) was "founded in 1901 and is now part of the U.S. Department of Commerce. NIST is one of the nation's oldest physical science laboratories." In 2013, then-president Obama tasked NIST to create a set of common-sense protection actions that SMBs could take to better protect themselves from Internet-based exposures.
The result of their activities is the Cybersecurity Framework (CSF), a set of foundational controls that provide guidance in 5 key areas: Identify, Detect, Protect, Respond, Recover. They provide guidance on not just what should be done but also in some cases provide proscriptive directions on how to protect your business, your employees, and your data. These five functions form a top-level approach to securing systems and responding to threats and become a part of your basic incident management tasks.
While the NIST Cyber Security Framework is a voluntary standard, many organizations large and small around the world do follow these best practices. The basic premise of the framework is to help organizations better manage and reduce cyber security risk based on established industry standards and best practices Some of the benefits for implementing the NIST Cyber Security framework in your organization include:
Supports Risk Management Activities
The Framework can help guide your business through key decision points about risk management activities. The Framework enables end-to-end risk management communications across your organization. By using the cyber security framework, your organization will be able to Identify and assess risk and determine which activities are the most important to critical service delivery and prioritize expenditures to maximize the impact of your investment.
Fosters Trust Among Partners
If your business does business with other businesses, being able to demonstrate you have a good security posture is a key selling feature. Both customers and vendors want to know where you are in terms of your cyber security risk. The NIST Cyber Security Framework is considered to be the "gold standard" when it comes to cyber security, so if you can demonstrate that you are following the NIST Cyber Security Framework to your key business stakeholders, it will help your business to continue to grow while fostering trust among your clients and partners.
Enhances Communication Among Technical and Financial Leaders in Your Business
With the NIST Cyber Security Framework, your technical and finance teams will now be speaking the same language. This NIST Cyber Security Framework enables an integrated risk management approach to cyber security management that is aligned with business goals. It forces many departments to work together to ensure that the risk management goals are set and met. When all departments understand the risks and work together, you have an organization that is in a good position to achieve its goals.
Flexibility of the Framework Makes it a Good Fit for any Organization
While NIST designed the framework with the Critical Infrastructure industry in mind, the Cyber Security Framework is flexible enough to be used by any sized business in any industry. "Because the Framework is outcome driven and does not mandate how an organization must achieve those outcomes, it enables scalability. A small organization with a low cyber security budget, or a large corporation with a big budget, are each able to approach the outcome in a way that is feasible for them. It is this flexibility that allows the Framework to be used by organizations which are just getting started in establishing a cyber security program, while also providing value to organizations with mature programs." SMBs and large enterprises all benefit from following the NIST Cyber Security Framework.
Helps Your Business Prepare for Future Compliance and Government Regulations
Businesses that implement the Framework are in a much better position from those who don't to adapt to new regulations and legislation. For example, in Canada PIPEDA was updated in 2019, and already there is talk of more consumer privacy protections to come. In the U.S., after cyber attacks took down Colonial Pipeline and JBS Meats, there have been calls for stricter cyber security controls for the Critical Infrastructure industry. CISOs and security leaders around the world are concerned about the rise in compliance requirements across industries and geographies. With the NIST Cyber Security Framework, you can build the most reliable foundation for your cyber security program to prepare for new regulations and updates to existing standards and regulations.
As you can see, implementing the NIST Cyber Security Framework has significant benefits to your business and its growth objectives. All businesses regardless of size can benefit greatly from the NIST Cyber Security Framework. To learn more about how you can implement the NIST Cyber Security Framework in your business, contact QuickProtect today.