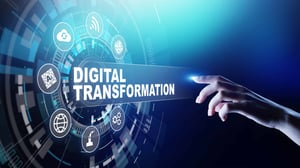 (Updated from November 12, 2021)
Digital Transformation isn't just a trendy business buzzword. If you're struggling to know what digital transformation is, Bill Schmarzo in CIO Magazine defines digital transformation as the "application of digital capabilities to processes, products, and assets to improve efficiency, enhance customer value, manage risk, and uncover new monetization opportunities." As business owners, we all want to improve efficiency while enhancing customer value, managing risk, and monetizing new opportunities.
There is great value in digital transformation. A study commissioned by Cyara found that both IT and business leaders see the value and importance of digital transformation. The study reported that 98% of respondents see digital transformation as a competitive advantage, 94% believe it will improve the customer experience, and 91% think it will have a positive impact on revenue growth.
Having both your IT department and your executive on board is only part of the Digital Transformation challenge. The other challenges include resources and communication. The same Cyara study found that "only 7% of both business and IT respondents think IT teams have the resources needed to keep up with the digital transformation initiatives and meet implementation deadlines." Moreover, IT teams are not often consulted on critical digital transformation decisions, according to the survey. Only 43% of business leaders said that they consulted with their IT teams on digital transformation initiatives.
Having staff resources and a good communication strategy is key to a successful digital transformation implementation. In addition, creating a culture where employees can embrace change and can adapt on the fly is also important. It's important to be committed to educating and developing your staff as a means of upgrading your employees' skills while maintaining institutional knowledge. There are times when you must look outside your organization for new skills, but if you can train existing employees, you'll build loyalty, lower turnover, and ultimately save the company money.
Implementing a digital transformation strategy in your business is valuable, but it takes planning and communication across all departments in your organization. Trust the experts at Quick Intelligence to help you simplify the digital transformation process. Contact us to learn more.