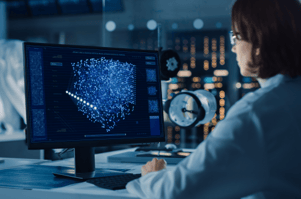 From time to time, you hear people throw around acronyms like MDR, EDR, XDR and SOC. So, what do all these acronyms mean and how can they benefit your business?
A SOC (Security Operations Centre) is important for any organization wanting to protect itself from cyber threats. Risk IQ's Evil Internet Minute found that there were on average 648 cyber attacks per minute on organizations. To try and deal with that many threats using in-house staff is too cumbersome to manage for most organizations. A SOC staffed 24x7 with well-trained threat-hunting specialists will ease the burden of overworked IT and cyber security teams.
After an organization decides it needs a SOC to monitor its systems, it must understand how it will protect them. A SOC can employ MDR, EDR, or XDR to do this. The differences between them are:
MDR stands for Managed Detection and Response.
EDR is Endpoint Detection and Response,
XDR is Extended/Anything Detection and Response.
All of these are early warning systems that let you know if something bad is happening to your network or systems in real time. MDR helps your business stay on top of your monitoring through an external Managed Security Service Provider (MSSP). The MSSP manages your cyber security 24 hours a day, 7 days a week according to your organization's specific cyber security needs. EDR takes it a step further by focusing on protecting a company's endpoints. EDR solutions can leverage cyber threat intelligence, machine learning capabilities and advanced file analysis to help detect advanced threats. You can extend your company's security coverage further with XDR by monitoring a wide range of areas beyond endpoint detection. You can use XDR across network infrastructures, cloud workloads, and any other application or environment you need. Through machine learning and artificial intelligence, XDR combines the benefits of EDR and MDR into a single, integrated view.
When looking for a SOC (Security Operations Centre) to help your business with its cyber security, you want a SOC utilizing XDR to its fullest capabilities. The most recent IBM Cost of a Data Breach report states that the average cost of a single data breach in 2022 costs $4.35 million USD and it took 70 days to contain it. The same study found that organizations using XDR technology were able to identify and contain a breach 29 days earlier than organizations that don't. As a result, the average cost of a breach for those organizations using XDR was 9.2% less.
Quick Intelligence offers the SOC solution your organization needs to stay ahead of cyber threats. Using the most advanced XDR technology, our analysts are available to assist you 24x7. Contact us to set up a call with one of our consultants.