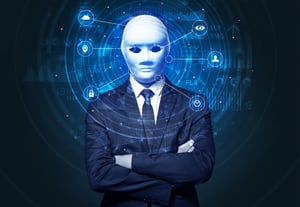 In today's technologically advanced world, the rapid growth of artificial intelligence (AI) and machine learning (ML) is reshaping various sectors, including cybersecurity. As cyber threats become more sophisticated, organizations are using AI and ML to strengthen their cyber defence mechanisms and protect valuable digital assets.
AI and machine learning (ML) are often used interchangeably, but they are distinct concepts, albeit closely related. An Artificial Intelligence program mimics the methods humans use to perform complex tasks such as analyzing, reasoning, and learning. In contrast, machine learning uses algorithms trained on data to produce models that can perform complex tasks. AI is often performed using machine learning, so the two terms are often used interchangeably.
It is no secret that AI has revolutionized numerous industries, including cybersecurity. With the ability to analyze vast amounts of data, AI algorithms can quickly detect patterns and anomalies that may indicate potential cyber threats. Machine learning, a subset of AI, enables systems to learn from past experiences and improve their ability to identify and respond to cyber risks. This technology has proven invaluable in identifying and mitigating cyber attacks at a scale that would be impossible for humans alone.
The research seems to bear this out. IBM's The Cost of a Data Breach Report 2023 showed that companies that use AI and machine learning experienced an average of USD 1.76 million lower data breach costs compared to those with limited or no AI and automation. Further, organizations that used AI were able to contain a breach 108 days faster than those organization than organizations that didn't.
So how do Artificial Intelligence and Machine Learning help organizations with their cybersecurity posture? AI and ML help companies improve their cybersecurity in the following ways:
Threat Detection and Prevention:
AI algorithms are capable of analyzing an extensive amount of data to detect patterns that might indicate cyber threats. ML models can be trained to detect anomalies in network traffic, flagging suspicious activities before they escalate into full-blown attacks. These technologies enable security teams to respond swiftly and mitigate risks effectively.
User Authentication and Access Control:
AI-powered authentication mechanisms, such as biometric recognition and behavioural analysis, offer enhanced security for user access. ML algorithms can analyze user behaviour patterns to differentiate between legitimate users and potential intruders, reducing the risk of unauthorized access.
Incident Response and Forensics:
When a cyber-attack occurs, AI and ML can assist in incident response and forensic investigations. These technologies can analyze attack patterns, identify the source of the breach, and provide valuable insights to prevent similar incidents in the future.
Threat Intelligence and Predictive Analysis:
AI and ML algorithms can continuously monitor and analyze data from various sources to identify emerging threats and predict potential vulnerabilities. This proactive approach allows organizations to stay one step ahead of cybercriminals, implementing preventive measures before an attack occurs.
Automated Security Operations:
AI and ML can automate routine cybersecurity tasks, such as log analysis, vulnerability scanning, and patch management. By reducing the burden on human operators, these technologies enhance operational efficiency and enable security teams to focus on more strategic tasks.
AI can indeed enhance your ability to stay resilient in the face of ongoing cybersecurity threats. Quick Intelligence helps businesses stay on top of cyber threats by providing AI-driven security solutions. AI-enabled solutions can detect and respond to cyberattacks quickly and effectively, allowing companies to remain secure. Contact us today to schedule a meeting to discuss how Quick Intelligence can help your business stay safe from cyber threats.