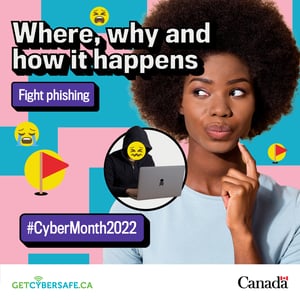 Did you know that October is Cyber Security Awareness Month? Are you doing anything special to celebrate? If not, read on for some suggested activities.
So, what is Cyber Security Awareness Month? To raise awareness of cyber security, the National Cyber Security Association (NCSA) and the Department of Homeland Security (DHS) began cyber security awareness month in October 2004. It has been recognized globally every October since then.
The Government of Canada has a website dedicated to cyber security awareness month called getcybersafe.gc.ca. The goal of "Get Cyber Safe" is to help Canadians stay secure online by teaching simple steps users can take to protect themselves and their devices. This year's campaign is focused on teaching Canadians how to fight back against phishing scams. At Get Cyber Safe, you can test your cyber security awareness, and find more resources about cyber awareness, such as videos, blogs, and infographics.
If you're looking to build a culture of cyber security in your organization, this month is the perfect time to start. In addition to the resources found at getcybersafe.gc.ca, you will also find great resources from NIST and the Cybersecurity Infrastructure and Security Agency (CISA). These tools and resources are the perfect addition to your cyber awareness training plan. These resources are great for individuals as well as for businesses of all sizes.
Now that you know what cyber security awareness month is about, what are you thinking about doing? Whether you own a business or want to be more careful on social media, take the time to learn more about cyber security this month. Consider having your business perform a cyber security health check. If you want to take your organization's cyber awareness to the next level, contact us about cyber security awareness training for your team.